Estimated Reading Time: 4 minutes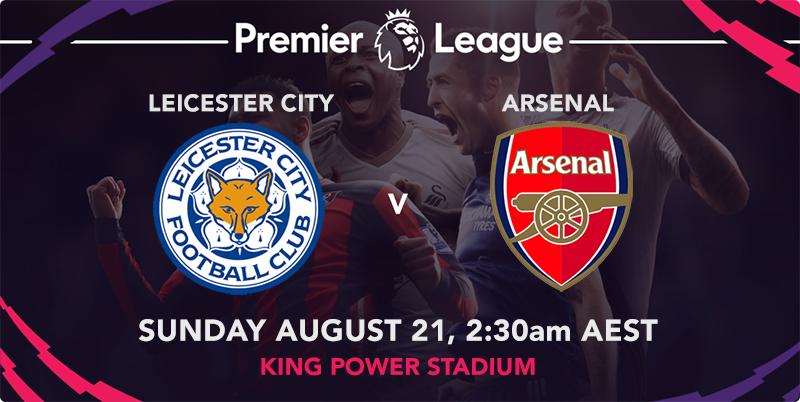 Sunday, August 21 from 2.30am AEST at King Power Stadium, Leicester City.
Table position:
Leicester City: 15th
Arsenal: 14th
Season record:
Leicester City: 0-0-1
Arsenal: 0-0-1
Win-draw-win odds:
Leicester City: $2.85 with WilliamHill.com.au
Draw: $3.40 with WilliamHill.com.au
Arsenal: $2.40 with WilliamHill.com.au

LEICESTER City might have won the Premier League title last season, but Arsenal was some what of a bogey side.
The Foxes could not get past the Gunners in either game last season, losing to them at Emirates Stadium, 2-1, and copping an absolute flogging on their home field, 5-2.
It's the battle of one and two from last season, but neither side covered themselves in glory in the opening round of the season, both succumbing to their opposition.
The Foxes visited Hull and got an early wake up call, going down 2-1 in a game they never really looked like winning.
Remarkably, it was the first time a title winning team had lost on the opening day of the next season since way back in 1989 – 27 years ago!
A penalty strike to reigning PFA player of the year Riyad Mahraz in the 47th minute was sandwiched by goals either side of half time to Hull's Adama Diomande – a spectacular overhead scissor kick, no less – and Robert Snodgrass to consign the Foxes to defeat.
But they could have certainly won the match, with several clear cut chances in the first half unfortunately spurned.
They are not a side that creates a ton of goal scoring opportunities, so they need to complete the ones that they are presented with.
Robert Huth will be a massive in for the Foxes after he missed the season opener while serving the final game of a three match suspension.
He adds experienced and fortitude to their defence – something they will desperately need if they are to stop Arsenal from piling it on.
While the Gunners, sans several attacking stars including Olivier Giroud and Mesut Ozil, were beaten by Liverpool, 4-3, they still managed to make a game of it in a high scoring effort.
And they might have had a very different result, had Theo Walcott not missed a penalty that would have been the game's opener.
He atoned for it, 68 seconds later, but it proved to be the one that got away, after Filippe Coutinho scored twice and Adam Lallana and Sadio Mane also got on the sheet.
The Gunners fought back with goals to Alex Oxlade-Chamberlain and Calum Chambers to set up a grand stand finish, but it was too little too late as they were unable to find the elusive match tying goal.
As far as out first goal scorer predictions go, we're going with Mahrez for City and Walcott for Arsenal.
Mahrez takes the penalties and free kicks and Arsenal seemed to foul on every second play against Liverpool. We think that could happen again and, if it does, Mahrez will be there to pounce.
As for Walcott, while he believes he should be leading the line, Wenger really only turns to him when he is bereft of options. While he is not quite up to it, he still looked like the Gunners' most likely a venue to goal against Liverpool and he should be up front again. As for the smokeys, we're going with Danny Drinkwater for the Foxes and Santi Cazorla – who really changed the game when he came on on the weekend – for the Gunners.
Possible teams
Arsenal: Petr CECH, Hector BELLERÍN, Calum CHAMBERS, Laurent KOSCIELNY, Nacho MONREAL, Granit XHAKA, Francis COQUELIN, Alexis SÁNCHEZ, Santi CAZORLA, Alex IWOBI, Theo WALCOTT
Leicester City: Kasper SCHMEICHEL, Danny SIMPSON, Robert HUTH, Wes MORGAN, Christian FUCHS, Riyad MAHREZ, Danny DRINKWATER, Andy KING, Ahmed MUSA, Shinji OKAZAKI, Jamie VARDY
First goal scorer picks
Leicester City:
Riyad Mahrez ($7 with sportsbet.com.au)
Danny Drinkwater ($23 with Sportsbet.com.au)
Arsenal:
Theo Walcott ($6 with sportsbet.com.au)
Santi Cazorla ($13 with sportsbet.com.au)
Match predictions
Match result: Draw ($3.40 with WilliamHill.com.au)
Correct match score: 2-2 ($11 with sportsbet.com.au)
Total match goals: Over 2.5 goals ($1.77 with sportsbet.com.au)
In all honesty, this one is very hard to pick. Neither of these two teams covered themselves in glory in the season opener, but the Gunners were heavily depleted, while the Foxes had a fairly different look and are still finding their feet.
It's hard to get a read on how either of them are going to perform. The Gunners looked like they couldn't defend a wet paper bag, while the Foxes could very well suffer a serious premiership hangover, if the first game is anything to go off.
We reckon that sort of form from both teams points to a high scoring draw. We prefer 2-2, but it could event go to 3-3 if the floodgates open. It will be interesting to see how this one goes, with the Gunners projected to press, while the Foxes will sit back, defend and look to feed the likes of Vardy, Okazaki, Mahrez and Musa on the counter.
The game has goals written all over it and the over 2.5 looks like the best bet we can offer here. Both games exceeded that scoreline last season – one by a considerable margin – and both teams' games on opening day also went over it.