Estimated Reading Time: 6 minutes
Just about every nation on the face of the Earth plays some form of football, be it the World Game or a unique provincial brand of the sport. The best online sportsbooks offer a veritable smorgasbord of football betting markets from all over globe, all year round. Below is a rundown of the different football codes and online betting markets available at trusted gambling websites.
The table you can see is geo targeted to your location and displays the top five online betting sites in your jurisdiction to bet on your code of football. Obviously if you are in the USA the betting sites will cater more towards American sports, or if you are in Australia the bookies will feature AFL and NRL prominently.
Global bookies like Bet365 and William Hill have a huge selection of football betting markets on all codes around the world, while if you are in a place with tougher gambling laws where the big corporates don't operate the table will steer you in the right direction.
---
Soccer
Association football, soccer, calcio, futebol, jogo bonito – whatever you want to call it, this is far and away the most popular sport in the world today. It is also the oldest of all professional team sports, with England's Football League dating all the way back to 1888.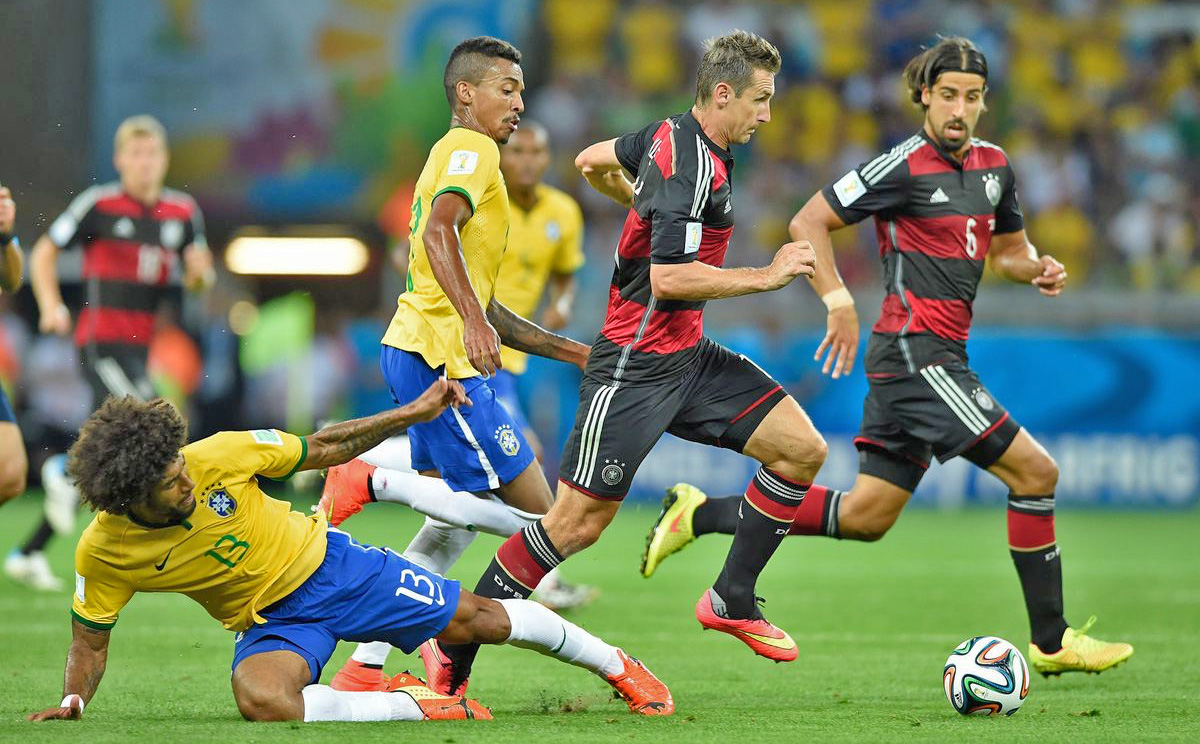 Nowadays, there are high-profile soccer leagues on every continent. While the biggest domestic competitions remain in western Europe, the game has thrived in South America since the early 20th century – especially in Brazil, Argentina and Uruguay – and has developed rapidly in East Asia, Africa, North America and Australia in recent times.

Secure Football Bookmakers
With worldwide appeal and ubiquitous media coverage, it should come as no surprise that soccer boasts a gargantuan sports betting scene. There are professional soccer leagues pretty much everywhere now, which means there is an enormous range of options all year long. The golden period is the European high season, however, which runs from August to May and encompasses hundreds of weekly fixtures from the top divisions of England, Spain, Italy, Germany, France, Portugal, the Netherlands, Belgium, Scotland… the list goes on.
And that's just domestic football. International soccer tournaments see the cream of the crop come together to represent their national sides in some of the biggest sporting events on the calendar. Major tourneys like the FIFA World Cup, for instance, are a bettor's paradise – especially in the outrights/futures markets, which offer heaps of early value bets on who will score the most goals in the tournament, how far certain teams will progress, and which team will take home the coveted Copa Mundial.
Top Domestic Soccer Leagues:
English Premier League (EPL)
Spanish Primera Division (La Liga)
German Bundesliga
Brazilian Campeonato
Italian Serie A
French Ligue Un
Dutch Eredivisie
Argentine Primera Division
Mexican Liga MX
US Major League Soccer (MLS)
Japanese J-League
South Korean K-League
Australian A-League
Major International Football Tournaments:
FIFA World Cup
UEFA European Championship
CONMEBOL Copa America
AFC Asian Cup
CAF Cup of Nations
CONCACAF Gold Cup
More Competitions for Soccer Betting:
UEFA Champions League
FIFA Club World Cup
Copa Libertadores
Asian Champions League
FA Cup
Copa del Rey
Coppa Italia
Europa League (formerly UEFA Cup)
---
Rugby Betting
There are two similar yet distinct forms of football which use this name:
Rugby league
Originated in the north of England in 1895, when several clubs formed a splinter division after the Rugby Football Union (RFU) refused to allow compensation payments for players who took time off work for matches. Also popular in France and many South Pacific countries, league football has developed its own distinct rule set over the years – including fewer players (13) on the field – in order to become a quicker, more aggressive sport.
Rugby union
Union is the more traditional format, having remained an amateur sport up until 1995. While rugby league is most popular as a domestic club sport, union football is better known for its national and regional representative teams in Britain and Ireland, Australia and New Zealand, South Africa, France, Argentina, and Pacific nations such as Tonga and Fiji. Trademark gameplay features include line-outs and rucks, which are no longer present in league, while scrummages carry far more importance under union rules.
For all the subtle differences, the two games share much in common – in particular, the need to be tough as hell just to set foot on the field. They also share a rich selection of global betting markets, with a special focus on props and exotic bets, futures and outrights, and over/under wagers.
Major Competitions for Rugby League Betting:
Rugby League World Cup
National Rugby League (NRL) in Australia & New Zealand
European Super League (ESL) in England & France
Four Nations
ANZAC Day Test
Best Rugby Union Betting Markets:
Rugby World Cup
Six Nations Championship
Rugby Championship (formerly Tri Nations series)
Bledisloe Cup
Super Rugby
European Rugby Champions Cup (formerly Heineken Cup)
---
NFL & NCAA Football
American football, or gridiron, traces its lineage back to rugby, but since key rule changes made in 1880 it has flourished into a phenomenon all of its own. These days it sets the standard for professional sport in the United States: the National Football League (NFL) draws the greatest average attendance figures of any sporting league in the world, while the Super Bowl is the single biggest annual television event in the US.
And then there is college football. Readers from outside North America may struggle to comprehend it, but NCAA football ranks behind only the NFL and Major League Baseball (MLB) in overall popularity in the USA – ahead of the National Basketball Association (NBA) and the National Hockey League (NHL), no less. Division I college games can draw crowds upwards of 100,000 people, which is more than the maximum capacity at five-star European soccer stadiums like Barcelona's Camp Nou and Real Madrid's Santiago Bernabeu.
Whether you are in the US or based abroad, American football betting is best done through a trusted Internet sportsbook. Leading online gambling sites like 5Dimes offer a wide selection of moneyline bets, point spreads, proposition wagers and many more special NCAA and NFL betting markets.
Top US Football Betting Events:
NFL Super Bowl
AFC Championship Game
NFC Championship Game
NCAA College Football Playoff
---
Australian Rules Football
With its oval-shaped playing fields, 18 active players per team and complete lack of an offside rule, Australian football is perhaps the most unique of all the provincial codes. What people might not know is that the Aussie game is also among the very oldest, as its first official rules date back to 1859 – well ahead of soccer (1863), American football (1869), Gaelic football (1887), rugby union (1871) and rugby league (1895).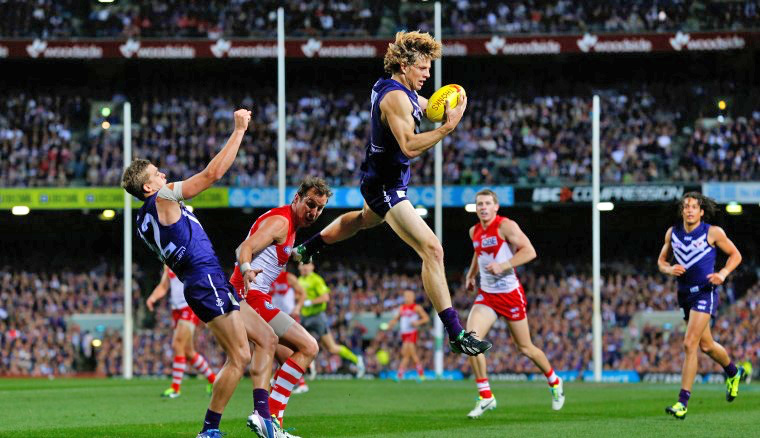 There is only one fully professional flight of Australian rules play: the Australian Football League (AFL), which currently consists of 18 teams in a single closed division. Since the nationwide competition succeeded the old Victorian Football League (VFL) in 1992, the game has established itself as Australia's premier football code over the NRL and rugby union. The AFL Grand Final – played every September at the Melbourne Cricket Ground – is one of the nation's most celebrated sporting events, drawing an international television audience upwards of 30 million viewers.
AFL betting culture is very healthy indeed, thanks to the Aussies' irrepressible appetite for sports wagers and multi-bets. AFL Premiership matches and finals series games can cater for hundreds of diverse bet markets, including a ton of special props and exotics wagers alongside your more conventional fixed-price odds. Many of the best sports betting sites also offer a tasty range of futures/outrights for the Premiership, the preseason competition and specialty markets like the Brownlow Medal, which is awarded to the league's fairest and best player as voted by the umpires.
Top Australian Football Betting Markets:
AFL Premiership
NAB Challenge Cup (preseason)
Brownlow Medal (league B&F)
Coleman Medal (league top goalscorer)
---
Gaelic Football
Provincial football has been played in Ireland for centuries, but the game as we know it today was first codified in 1887 by the Gaelic Athletic Association (GAA). Cobbled together from several traditional Irish games (including hurling), Gaelic football nonetheless showcases aspects of the two English sports it was designed to discourage: rugby and soccer. It also shares much in common with Australian rules, which has led to the hybrid International Rules Series played between Australia and Ireland.
Although Irish football remains an amateur sport, it is also the country's most popular game. Indeed, the All-Ireland Senior Football Championship – contested between the nation's top county teams – culminates in one of the best-attended cup finals in all of European sport, with north of 80,000 fans packing out Dublin's Croke Park every year. Other strong competitions for Gaelic football betting include the inter-county National Football League (not to be confused with its American namesake) and the All-Ireland Club Championship, which is played between the best individual clubs from each county.
Best Betting Markets for Gaelic Football:
Sam Maguire Cup (All-Ireland county final)
Irish National Insurance Cup (NFL championship)
Andy Merrigan Cup (All-Ireland club final)