Online horse race betting is exciting and when done well, very profitable. With online sportsbooks and racebooks getting more indepth, many of them will even offer live streaming of popular races.
Before you do anything, if you want to place a bet on horse racing an you can't get to the track or the TAB (betting shop), you'll need an online betting account.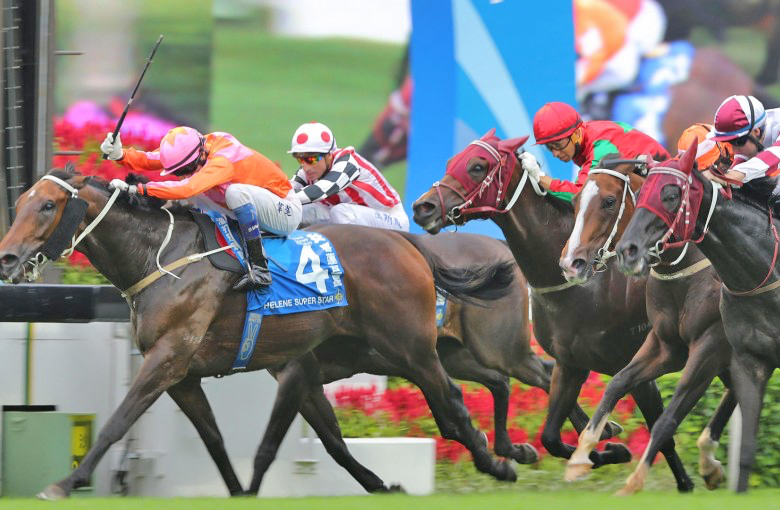 That means you need to sign up with one of the popular online bookmakers, and obviously you'll be looking for the best one.
Well, look no more.
This list of online bookmakers has been built experts, meaning all you need to do is choose one – or more than one – to take advantage of, and you know that you will be in safe hands.

Horse Racing Bookmakers
---
Horse racing – Why bookie bonuses can make or break you
Horse racing and gambling have become synonymous with each other in Australia.
Millions of Aussies love nothing more than sitting back in front of the box watching the races, with their betting accounts at the tips of their fingers, thanks to the dawn of online gambling.
There are mountains of bookmakers offering thousands of markets on just about every race across the world and you can bet on each race from the comfort of your own home.
And, if you're on the go, that's no dramas either, online bookmakers offer simple apps for your smartphones and tablets that allow you to place your bets at the touch of a button.
Betting horses online can be a fantastic punting experience.
Relax on the weekend on the couch with the races on and you're set.
The first online bets on horse racing were placed way back in 1993 and the online market has gone from strength to strength.
There's no better feeling than placing an online bet on your favourite horse and watching it salute in a canter, winning you some serious cash.
But it is all well and good to offer a ton of markets on the races, but what we really want is something to sweeten the deal.
That is when promotions, including freebets, bonuses and insurances, come in.
At the end of the day, the house always wins and the bookies are obviously in it for the money, so punters should be taking back every little bit they can.
Any online bookmaker worth a grain of salt will offer a suite of promotions across its betting markets – and the horse racing component is a massive part of that.
Whether it's midweek thoroughbreds, or the massive weekend group ones, chances are your bookie will have a bonus in there somewhere.
And hey, if you have never placed an online bet on the races, we have got you covered.
Here's a look at what you need to do to place a bet on the races and just how to claim your freeboot (hint, it is very easy).
Enjoy.
Below, we will detail our major bookies' promotions on horse racing. They won't offer every single one of them all of the time, but this is a sample of exactly what you can expect when you sign up with one or more of them.
---
Understanding horse betting
Punters who typically bet on other sports may find horse race betting difficult to get into. Many other sports will not offer parimutuel odds, so with how quickly the odds change it can be intimidating to uninitiated.
Horse race betting is simple once you get the hang of it. Before every race, handicappers will lay out odds. Every race will have a favorite, and most will have a long shot. However, every wager made will change the odds. Even a 40 to 1 long shot can end up the favorite with nearly even odds if the crowd places enough wagers picking it to win. Paying attention to a horse's history, handicapper's notes, and the quality of the track are all important to consider.
---
Betting Options
Online sports betting has made horse race wagering a very lucrative past time, as players can wager on events worldwide. 5 Dimes offers races at some of the biggest tracks: Belmont Stakes, Santa Anita, Churchill Downs, and more. Bettors aren't restricted to only the most popular thoroughbred races either. Wagers are offered on Harness Racing, as well.
Australian bookmaker are extremely adept at offering markets on horse racing from Australia, Hong Kong, Singapore, Dubai, United Kingdon, Japan and the US.
---
Wagering
Thanks to online sports betting, bettors have access to even the most complicated bets with only a few mouse clicks, and can easily see how much the slip will cost, and how much they stand to win before submitting.
The online racebook and bookie offers traditional wagers like Win, Place, and Show. There are also exotic wagers offered. Exactas, Trifectas, and Superfectas. There are even options to choose these bets straight, or boxed.
---
How to Wager
Once you've chosen the track, the race, and the horses you wish to bet on, placing a wager at 5 Dimes is very easy. The menus are very easy to navigate, and bets can be placed on their website, as well as via telephone. There is even a Bet Tracker app available for bettors to track their wagers in real time.
---
Promotions & Rebates
Racebook Rebates allow players to earn up to 9% in cash rebates for all the wagers a player places online at tracks nationwide. These rebates are earned every day, on every wager, regardless if players win or lose. Unlike some rebate programs, there is no minimum volume of wagers required, and no cap on earnings.
The PLUS 10% bonus offers players an extra 10% on qualifying winning bets. On major tracks bets to Win and Exotic bets earn an extra 10% on winning bets. On other tracks the 10% is only earned on winning Win bets. (A Win bet is a wager on which horse comes in first place.)
---
Crownbet.com.au horse racing specials
Saturday racing special
Place a fixed odds win bet on any of the last four races at a selected major metro race track on a Saturday and, if your horse happens to run second or third, the friendly folk at CrownBet.com.au will match your stake up to $50 with a bonus bet.
Racing multi special
Place a three or more leg fixed odds win multi at selected race tracks on a given day and, if you happen to get all of the legs home except one, the bookie will match your stake with bonus Crown Rewards points up to $50 by giving you 100 bonus points for every $1 placed, up to 5,000 (worth $50) Bonus Structure: $10 bet=1,000 Points, $20 bet=2,000 points, $30 bet=3,000 Points, $40 bet=4,000 Points, $50 bet=5,000 Points
---
Sportsbet.com.au horse racing bonuses and offers
Best price on the one
Sportsbet.com.au designates racing meets where it offers the best fixed odds on the number one horse. This bet applies to the win market and fixed odds only but, if your horse salutes out of barrier one, you will get the best return out of all Australian TABs (TAB, UBet, Tatts, William Hill, Luxbet, Ladbrokes, Crownbet, Bet 365) at the time of the bet placement. The bookie also offers a variation of this, with horses wearing the number one. The same deal applies.
Vic races cash back
Take a punt on the racing in Victoria from Wednesday to Sunday and – in race four, five and six, if the horse you backed to win happens to come second or third, you will get your money back in the form of a $50 bonus bet.
Australia biggest bookmaker!
Sportsbet is Australia's largest corporate online bookmaker with a wide range of markets and promotions for registered customers.
---
WilliamHill.com.au horse racing promotions and deals
Race insurance
Place a bet with the 'Insurance' box ticked on the race card and if your selection runs second or third, WilliamHill.com.au will return your stake. You'll find that the insurance becomes available about one hour prior to the race and it can be a handy little tool to help mitigate your risk. The good thing, also, is that we can't find anything that states the bookie has a cap on the amount, so we would hope that the insurance covers your entire stake.
---
Palmerbet.com.au horse racing promotions and deals
Fully Australian owned and with over 30 years in the industry, PalmerBet.com.au has the nous to provide a solid suite of bonuses and money back specials on your favourite horse racing events. You will find, on occasion, the bookie offers money back on races where your horse wins second or third and multi insurance if your parlay dips out by just the one leg.