Estimated Reading Time: 5 minutes
Luxbet Announces Closure
Please note that on the 15th December 2017 Tabcorp, the parent company of Luxbet; announced that they are closing the corporate bookmaker effective the 22nd December 2017. All accounts holder are advised to promptyl withdraw their funds. For further information please refer to Luxbet announces closure.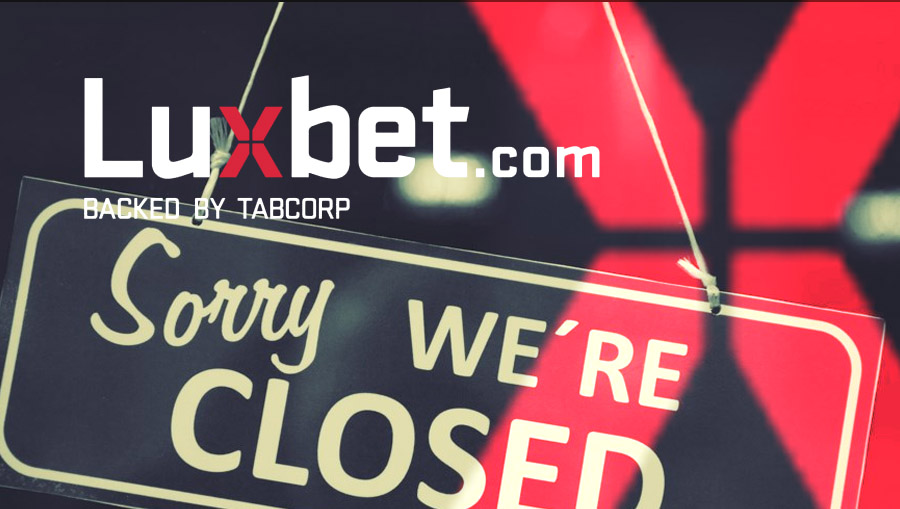 ---
Luxbet History and Background
BILLED as the luxury arm of the traditional TAB, LuxBet.com.au has so far delivered the goods.
Licensed by the Northern Territory Racing Commission, LuxBet has only been around since October 2008, but has been really pushed by the TAB's as a viable alternative to other corporate bookmakers in the past year or two.
LuxBet gives the TAB a crack at markets it is prohibited from offering under law, including things like elections, entertainment and other events that are not related to sport or racing.
The one thing you will find with LuxBet is that, because it is one of the later entrants into the scene, its bonuses, promotions and specials tend to scoop the pool as it seeks to grab the attention of punters who may have already signed up with other online bookmakers who have been around for longer.
LuxBet touts itself as an online bookmaker "for the people who know racing".
"Luxbet offers extra value, all year round with great odds, Australia's highest paying racing products and daily racing specials."
LuxBet has the backing of most of the major sporting codes, with the PGA of Australia, Tennis Australia, NRL, AFL and Cricket Australia all providing their approval for it to offer markets on their events.
---
Sign up bonuses
Deposit $50, get $150 in Bonus Bets
When you join luxbet and deposit $50, you will receive $150 in bonus bets to split your way. The conditions states that this is for customers who are residents in Queensland, Tasmania, ACT and Northern Territory only, but you will find that residents in other states will often get the bonus as well. Bonus bets can be wagered on any eligible markets, provided they are in increments of $10 or more. So you could, conceivably have 15 bets with your $150 bonus. You've got 30 days to use your bonus bet and there is always that stickler that you have to turn it over at least once before you can remove it.
---
Sports betting
LuxBet.com.au offers a massive array of sports and other events to bet on. They include:
American Football
Australian Rules
Badminton
Baseball
Basketball
Bowls
Boxing
Cricket
Cycling
Darts
E-Sports
Elections
Entertainment
Featured Events
Field Hockey
Financial
Futsal
Golf
Handball
Ice Hockey
Live Betting
Martial Arts
Motor Sport
Netball
Novelty
Olympic Games
Quick Multi
Rugby League
Rugby Union
Snooker
Soccer
Special Events
Surfing
Table Tennis
Tennis
Volleyball
Winter Sports
If you can't find the sport you want to bet on there, then you're not looking hard enough.
---
Racing
As we said, LuxBet is backed by the powerful TabCorp and that means it has its finger on the pulse of the racing world.
With markets on thoroughbreds, harness and greyhounds – every event in Australia and most of the big ones from all over the world, there is a punt on the ponies or dishlickers available almost 24 hours a day, seven days a week.
One of the very cool things about LuxBet is its awesome ClubXtra program, which offers a remarkable 12 per cent bonus for horse owners and trainers when they place a bet on the nags that they own or train.
Owning a horse is the dream. Winning a big punt on them is a bonus. And the ClubXtra program takes the cake.
---
Deposit and withdrawal Methods
Like any reputable bookmaker, LuxBet.com.au offers a variety of methods of depositing into and withdrawing cash from your betting account.
Deposit:
Credit Card:
LuxBet allows you to use either VISA or Mastercard as a fast way to fund your account and begin betting immediately. Of course, credit card deposits must be turned over (bet with) before refunds can be processed. That would be cheating the system.
Moneybookers:
Moneybookers deposits and withdrawals are available to all clients who have a Moneybookers account. Moneybookers deposits usually transfer instantly.
POLi:
The new craze is a secure internet payment channel that allows you to fund your account instantly, 24/7, 365 days a year, directly from your bank account. All you need is an online banking system and it's very easy.
BPAY and Direct Bank Transfers:
If you are happy to take it a bit slower, you can always BPAY your funds into your LuxBet.com.au account. And if it's easier, you can always do an electronic funds transfer over the phone or on your online banking system. The precursor is that these methods take time. Sometimes up to two to three days, so you really need to be on top of it early in the week if you intend to make wagers on upcoming events. LuxBet asks that you quote your unique username on any transactions of this nature. If you are BPAYing your funds in, use the Biller code (for LuxBet it is 77370) and then your customer reference number to make the transfer.
Direct Bank Transfer:
Last but not least, if you really don't want to use any of those other systems, you can always go into your bank's branch and do it the old fashioned way. Yep, you can deposit funds into your betting account easily over the counter at your nearest branch. Just go and see the teller and give them these details:

Bank Name: Commonwealth Bank
BSB: 063-243
Account Number: 10326488
Account Name: LUXBET PTY LTD – CHQ & EFT
Bank Address: 380 St Kilda Road Melbourne VIC 3000

Please make sure you quote your reference number. You don't want your funds disappearing.
Withdrawal:
Customers can transfer funds from their Luxbet betting account to an Australian Bank account without incurring any fees or charges.
---
Accessing LuxBet.com.au from a mobile device
LuxBet.com does have a simple mobile site you can access through your smartphone and tablet browsers, but for ease of convenience, if you are going to become a member of the online bookmaker, you simply must download its very easy to use betting app.
With the LuxBet app, you can do absolutely everything you can on the LuxBet.com.au desktop site, but it is at the end of your fingertips.
And it even has a bunch of handy other features like "swipe to scroll" between races, form, results and sporting events. The funky multi mode allows you to shake your phone to start placing multis on racing and sports.
You can also listen to Sky Sports Radio, streamed live through the app.
---
Verdict
There's just something special and reassuring about the LuxBet experience.
It must have something to do with the luxuriant name.
You feel like royalty when you use the LuxBet service, due to its superior suite of sports and racing markets, coupled with some superb bonuses and promotions it offers up on a daily basis.