Estimated Reading Time: 5 minutes
There are many safe free bet offers available with betting sites often updating or launching a new promotion. The top safe free bets we promote on this website have been vetted by our team and found to be of a certain standard. Free bets come in many different forms, including no deposit free bets, matched free bets, cash back free bets and many more. The top safe free bets at online betting sites for September, 2023 are:

Safe free bet offers
Why regulation is so important with free bets
Regulation plays a big role in how we select a bookmaker, we like and trust certain licensing bodies like the United Kingdom Gambling Commission, the Northern Territory Racing Commission and some other emerging ones like Panama and Costa Rica. While, you should bet at a bookie located in your country and regulated there, the above bookmakers have outstanding reputations for catering to International customers.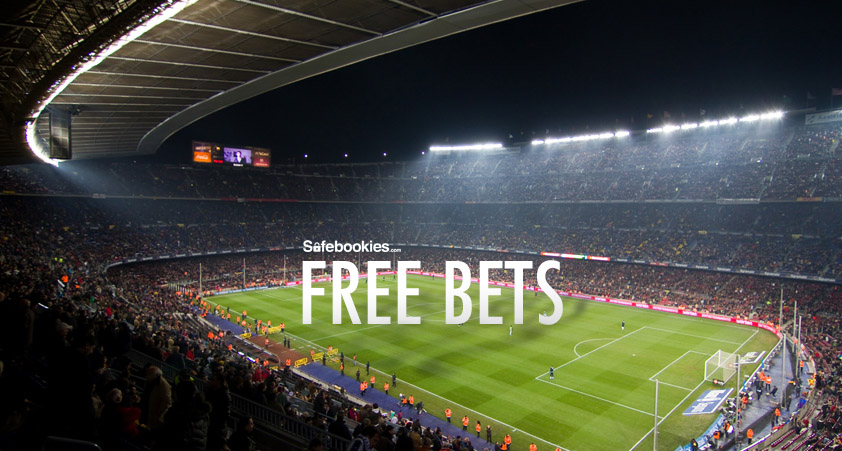 ---
Types of freebets
The terminology can swing from one country to the next, but in 2023 most freebets take the form of some type of match deposit bonus. This means you make a deposit and you are rewarded with freebets matching, or a percentage, of your initial deposit.
Some other terminology you might hear or have heard about freebets includes:
No deposit bonus:
Not very common these days and when you do find them they generally have strict wagering requirements.
Bookie bonus:
This is sometimes used as an all encompassing term for any type of bonus. Other times it works much like the match deposit bonus we spoke about above.
Bonus bets:
A bookie will give you bonus bets for things like depositing money or betting on a certain event. For instance in Australia Crownbet has held a promotion where you bet AUD $50 on one race and receive three bonus bets (2 x $25 and 1 x $50).
Cash back:
This involves receiving money back for gambling at a bookmaker, or for achieving something other than winning with your bookmaker. For instance 5Dimes has had a cash back program before where punters were given a weekly percentage of the money they had unsuccessfully wagered. Another instance could be if you put on a head to head bet but your team loses you may get your money back for something like leading at half time.
Reduced Vigorish:
Or reduced juice is an American term saying the bookies take is less than a normal sportsbook.
While there is no doubt we have missed many terms the bookies have come up with, as a general rule make sure you read the fine print of a deal before you accept it. If it sounds too good to be true it probably is.
---
Wagering requirements
If you jump headlong into accepting a freebet offer you may get stung by wagering requirements. Wagering requirements are easily explained; they are restrictions placed on a bonus amount that you must meet before you can withdraw it as real cash.
A standard wagering requirement for a bookie could be 3x which means you have to wager the bonus amount's value three times. For instance if you deposit $100 and the sign-up bonus was 100% up to $100, giving you $200 in total to bet with. With a 3x wagering requirement you would have to wager the money up to the value of $600.
On top of this, often, a bookie will also take the initial stake from your money when you have cleared the wagering requirement (when the bonus amount gets switched to your real money balance). So using the above scenario, if you have won $600, with your initial $100 stake you will receive $500 real money into your account.
We can't stress enough that anything harsher than the wagering requirements we describe above is a good indication that the bookie is taking you for a ride and you have no chance of meeting the wagering requirements and ultimately making a withdrawal.
NB To read more about the wagering requirements of each bookies bonus visit their respective reviews, accessible from the table above.
---
What can I punt on with my bonus bets?
As a general rule you can use freebets on any sport, horse racing event or any other offered event with odds at your chosen online betting site. While there are sure to be sites out there with restrictions on what sports or racing events you can use your bonus amount on, to the best of our knowledge there are no restrictions at gambling sites we promote on this site.
The bookmakers displayed in the above table all offer a good range of International sports betting options. It clearly shows the bookies you can sign up at and chances are you will be familiar with the brands on display. You can read about each individual bookmaker from the review links above.
Some of the more popular sports to bet on include football, or soccer, tennis, basketball, horse racing, greyhound racing, harness racing, AFL, Rugby League, hockey, NFL, baseball, cricket and the Olympics.
The biggest betting events looming on the horizon include the 2016 T20 World Cup where Australia will go in warm favourite to topple defending champion Sri Lanka, who are undergoing a T20 rebuild.
The 2018 World Cup is already a big focus with many qualifiers being played and of course there are always domestic sports being played in each country.
---
Biggest freebet on the web
Safebookies.com has done its homework on a lot of bookies and while we are expecting to add several more to this website in the near future the biggest bonuses we currently endorse are listed in the free bet, bonus and online bookmaker pages for each country.
Some countries like Australia have banned all free bets, bonus sign up offer and bet bonus promos.
For USA punters BetOnline offers up to $1000 in freebets but this is a 25% match deposit offer, meaning you have to deposit USD $4000 to claim the bonus amount. While the bigger the bonus the better it really comes down to the terms of the welcome package or bet offer. What is the point of a $10k bonus when it's impossible to ever cash it out?
---
Are freebets worth my time?
Yes of course they are. Treat them for what they are. A free hit at a big win. With the restrictions placed through wagering requirements you are not going to make a living from using these bonus offers, but you can definitely craft out some nice profits if you use them smartly – just know what you have to do to cash out.
Or use them like this author does. On a long shot on the next to jump at Flemington.