Players from United States not accepted
Year Founded:

1996

Licenses:

Owner:

Palmer Bookmaking
Deposits
BPAY
Bank transfer
Credit Card
MasterCard
POLi
Visa
Debit Card
Pay ID
Restricted Countries
Afghanistan
Albania
Algeria
American
Samoa
Andorra
Angola
Armenia
Aruba
Austria
Azerbaijan
Bahamas
Bahrain
Barbados
Belarus
Belgium
Bosnia
&
Herzegovina
Brazil
Brunei
Bulgaria
Bulgaria
Canada
China (PRC)
Christmas Island
Cocos (Keeling) Island
Congo (Dem Republic)
Congo (Republic)
Cote
D'Ivoire
(Ivory
Coast)
Crimea
Croatia
Cuba
Cyprus
Czech
Republic
Denmark
Estonia
Finland
France
French
Guiana
French
Polynesia
French Southern Territories
Georgia
Germany
Greece
Greenland
Guadeloupe
Guam
Guernsey
Guyana
Hong Kong
Hungary
Iceland
Indonesia
Iran
Iraq
Ireland
Isle of Man
Israel
Italy
Jamaica
Japan
Jersey
Kazakhstan
Korea North (DPRK)
Kosovo
Kuwait
Laos
Latvia
Lebanon
Liberia
Libya
Liechtenstein
Lithuania
Luxembourg
Macau
Macedonia
Malta
Marshall
Islands
Martinique
Mayotte
Mexico
Micronesia
FS
Moldova
Monaco
Montengro
Myanmar (Burma)
Namibia
Netherlands
Netherlands
Antilles
New Caledonia
Nigeria
Northern Mariana Islands
Norway
Pakistan
Palestine
Panama
Papua New Guinea
Philippines
Poland
Portugal
Puerto
Rico
Reunion
Romania
Russia
Rwanda
Saint Barthélemy
Saint Martin
Saint Pierre and Miquelon
San Marino
Serbia
Sierra
Leone
Singapore
Slovakia
Slovenia
South Africa
South Sudan (Republic of)
Spain
Sudan
Sweden
Switzerland
Syria
Taiwan
Tanzania
Thailand
Timor-Leste
Tunisia
Turkey
Turkmenistan
Uganda
Ukraine
United Kingdom
United States
United States Minor Outlying Islands
Vatican City State (Holy See)
Virgin Islands (British)
Virgin Islands (US)
Wallis and Futuna Islands
Yemen
Zimbabwe
Accepted Currencies

Palmerbet is one of the most prominent Australian-owned and operated online bookies in the country.
The Palmer name has been synonymous with racing in New South Wales for well over 30 years, and now the grandsons of Ted Palmer have decided to take the expertise forged by their grandfather to the online world.
Grant and Andrew have put together a site that aims to offer a more 'youthful, interactive and fairer betting experience' and the sleek and modern website design reflects their endeavour.
PalmerBet is easily accessible on mobile via iOS and Anroid apps, as well as their fully functional mobile website.
---
Promotions and features
Palmerbet is fast becoming one of the better bookmakers with its promotions heavily centred around Australian happenings, like the AFL, NRL, cricket & the racing codes.
Palmerbet offers punters money back as a bonus bet across both AFL and NRL if your team leads at three quarter time in the AFL or at the 60 minute mark in the NRL – and go on to lose.

Featured casinos
Throughout both the AFL and NRL finals Palmerbet also offer even money lines.
Specialty markets are something of a constant with Palmerbet too.
The 2015 Rugby World Cup is one such event Palmerbet got behind, with enhanced odds on all of Australia's matches.
Another terrific feature Palmerbet offers is the fav versus field market, which allows punters to take on a short priced favourite in a race if they think the odds do not reflect a runner's ability.
Best of the best totes on major races and money back specials on selected races, Palmerbet is setting itself to be one of the better choices for punters looking to open a new online betting account.
---
Palmerbet website layout and design
Palmerbet's layout is one of the better sites you will come across.
With strong, vibrant colours and ever changing front page features, Palmerbet makes it easy for punters who may not be familiar with online betting layouts. Here is a quick run down of what to expect.
Sidebar:
The main feature of Palmerbet is its sidebar, which has all the markets punters are after, as well as the featured events in sport and racing.
Racing:
Scrolling down and on the side Palmerbet shows all the current racing for the day, including the next five races in a drop down menu. There is also a section at the top of this area that allows you to see all the upcoming races, featuring the gallops, harness or dogs making it simple if you have your heart set on one particular type of race. Also available in this section is racing futures – which features all the main races that are coming up in the year.
Sports:
The sports drop down menu has an all sports selection, but thereafter has every sport you could want to bet on.
Promotions:
The promotions are featured on the top of the side bar, and also as the main page, which shifts from the daily specials to the big promos the company is going with at the time of your visit.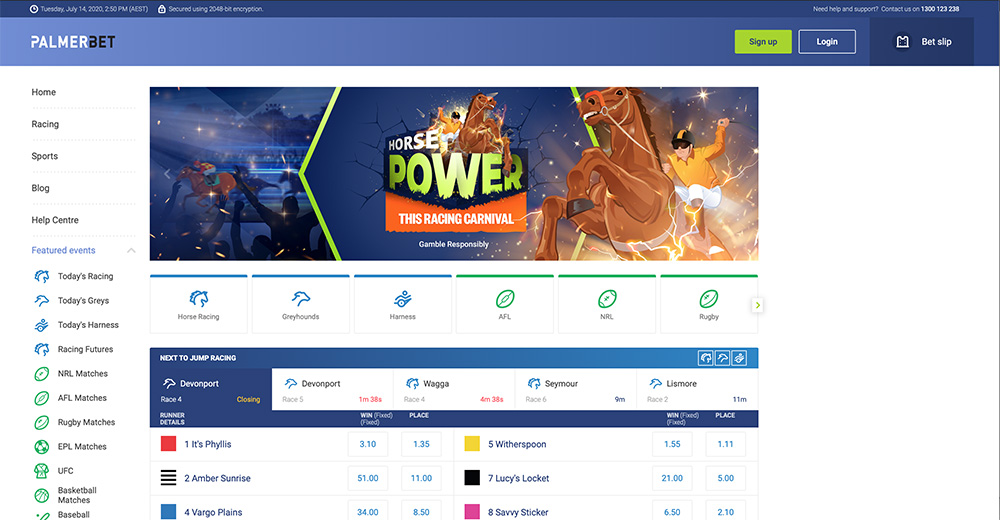 ---
Sport and racing
While Palmerbet is an Australian bookmaker and only caters to this clientele they do have a good selection of International sports to bet on, including the NFL, NBA, English Premier League and many others.
In Australia Palmerbet focus heavily on the horse racing, as the family have done for many years, but the domestic sporting scene is nicely covered. If you are looking for fluff markets on politics or reality TV shows I would look elsewhere.
---
Deposit options
Palmerbet has a multitude of options for those looking to put funds into their account to launch an attack on the bookies. Like all the corporate in Australia there are plenty of different ways, with the most common types being:
Credit card:
Those who have a credit card will find the ease in which they can deposit funds into their account a feature of the Palmerbet experience.
POLi:
POLi is a secure internet payment channel that allows you to fund your account instantly, 24/7, 365 days a year directly from your Australian bank account.
BPAY:
Whether it is online or via phone, BPAY is one of Australia's favourite transaction types due to its simplicity and safety – and Palmerbet is proud to offer BPAY as one of their deposit options.
Electronic Funds Transfer:
EFT, or a Direct Cash Deposit – can be made at any Commonwealth Bank branch in Australia. The funds will be credited to your account the following day. Palmerbet makes this easy by providing their details on the site.
---
Contacting Palmerbet
With phone numbers helping punters bet and gain information on markets, as well as an email address which they routinely check and respond quickly to, punters can feel safe betting with Palmerbet.
Their help line can be found at 1300 12 HELP, their email contact is contact@palmerbet.com and to place a bet punters can call up 1300 123 BET.

Featured casinos
---
Our take on Palmerbet
Palmerbet is one of the youngest and most promising bookies in Australia. They are large enough to take the big bets mainly because of their relationship with the NSW Bookmakers Co-operate, who are the financial backers of the venture.
Unlike most of the big bookies in Australia, Palmerbet is licensed in NSW. This is as good a license as any and we haven't heard any bad words about this company.
If you are an Australian we strongly recommend taking advantage the great betting offers on most major Australian sports, including greyhound racing and horse racing.