There is a seemingly endless number of obscure tennis tournaments held around the world each year but in the eyes of any real punter there are only four tournaments that mean anything. The Australian Open, the French Open, Wimbledon and the U.S. Open make up the most prestigious tour circuit of all: the Grand Slam Tournaments.
Major bookies around the world offer some outstanding promotions for the duration of the big four, with Australian, USA, Spain, France and British punters among those who enjoy betting on who will claim glory.
You often hear the leading players say they cater their training loads to peak for the grand slam tournaments and in turn some like Serena Williams have brilliant records at the majors. While it is well and truly possible to grind out a winning year as a punter on the tennis circuit, it is during the grand slams when the most money passes between bettors and the bookies.
While much of the attention is on the men and women's singles crown at the grand slams, each tournament on the Grand Slam tour also includes men's doubles, women's doubles and mixed doubles events.

Grand Slam Tennis Betting
---
Australian Open
The Australian Open is a hard court tournament and kicks off the Grand Slam Tour in January each year. Held at Melbourne Park tennis centre in Melbourne, the tournament has been played in one form or another since 1905. However back then it often moved cities from year to year. The current incarnation of the tournament has been locked in and played in Melbourne since 1972.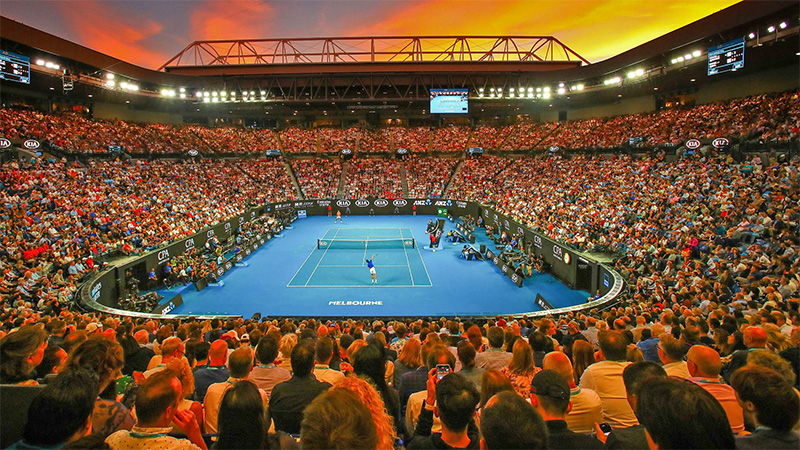 The 2016 Australian Open is set to eclipse the $40,000,000 mark in prize money, making it the third richest tournament on the calendar behind Wimbledon and the US Open.
Since the tournament became an open event to professionals in 1969 there have been some great names to win the tournament, none doing better than current day champ Novak Djokovic. He has dominated the men's singles with five tournament wins, three of which were consecutive.
For the women's singles Australian's own Margaret Court managed to win 11 titles both before and after 1969. Court strung together seven consecutive titles before '69 and another three consecutive titles after '69. However exclusively in the modern era, Serena Williams holds the record for most titles at six.
---
French Open
The French Open, also known as Roland Garros, is held annually at Roland Garros in Paris and gets started at the end of May each year. It marks the second stop of the Grand Slam tour. The only Grand Slam tournament to be played on a clay court, The French Open has a prize pool of AU $35.6 million dollars.
What is now known as the French Open started in 1891 as a National tennis tournament in which only members of French tennis clubs could enter. From there the tournament evolved over the years and in several different forms to eventually solidify itself until 1968 when the competition became an open event for both amateurs and professionals alike.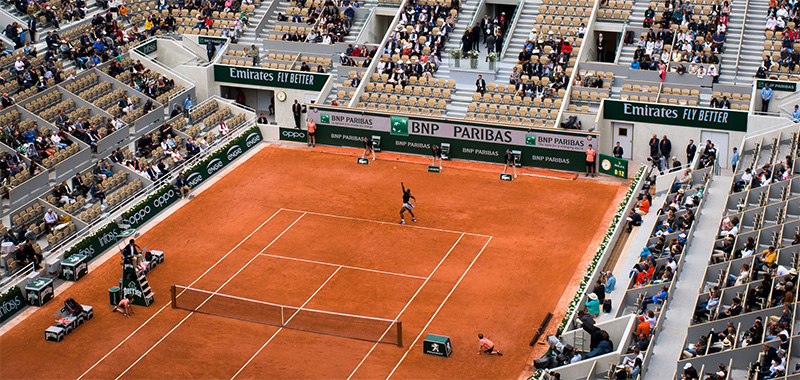 Since its open status Rafael Nadal has dominated the French Open and relished the clay court claiming nine titles, winning all but one title between 2005 and 2014. For the women, Chris Evert is the most successful claiming seven titles between 1974 and 1986.
Other great clay courters to have won the French Open include Thomas Muster, Gustavo Kuerten, Bjorn Borg, Michael Chang and Ivan Lendl. In the ladies American Chris Evert stands head and shoulders above her peers with seven French Open titles, with German Steffi Graf having won six. The pick of the ladies presently playing are Serena Williams and Maria Sharapova who have both been crowned Queen of Roland Garros twice.
---
Wimbledon
Wimbledon is the oldest of the Grand Slam events and highly steeped in tradition. In fact, Wimbledon is the oldest tennis tournament that is still around today, having begun in 1877. Played on grass courts at The All England Lawn Tennis and Croquet Club in London, Wimbledon begins toward the end of June each year.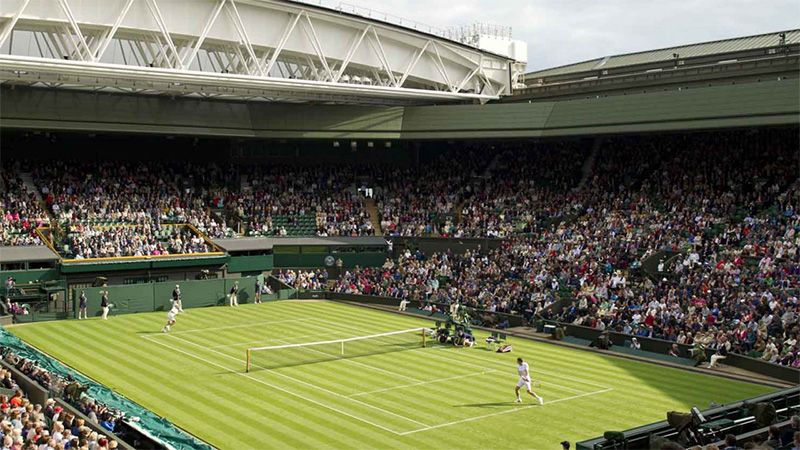 All participants in Wimbledon must adhere to the rules and only wear white clothing when competing in Wimbledon which is a great tradition to see survive after so many years. Interestingly Wimbledon was the grand slam last tournament to hold off installing a roof on centre court, but this tradition was scotched in recent years.
Wimbledon is not only the oldest competition on the Grand Slam circuit but also the richest, boasting a war chest in winnings of US $50,000,000.
In the modern era (since 1968) Pete Sampras and Roger Federer each won seven titles in the Gentlemen's singles. Federer was even able to string five of those wins together consecutively.
In the Ladies Martina Navratilova has won nine titles, six of which were consecutive wins. Graf was also prominent on grass having won seven titles. Again in the current players it's William throwing down the gauntlet with seven Wimbledon singles crowns.
---
US Open
Founded in 1881 the US Open is played at Flushing Meadows, Queens, New York City in late August each year.
This hard court tournament has had many location changes over the years before finally settling at Flushing Meadows and has even changed surface from grass to clay to hard court. This is the final stop of the Grand Slam tournament circuit, beginning in late August each year.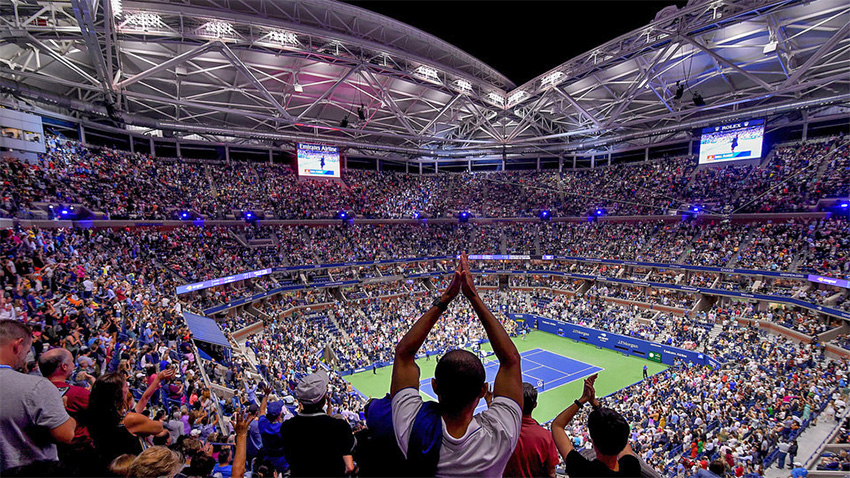 The US Open boasts a prize pool of AU$48.7 million dollars each year.
In the modern era of the event Jimmy Connors, Pete Sampras and Roger Federer have dominated the men's singles event with five titles each. Federer even managed each of his five wins consecutively.
Chris Evert and Serena Williams have each claimed six titles in the ladies singles. Evert even strung together four of her titles in consecutively.
---
Best Bookies for Tennis Betting
Online bookies are great for betting on tennis both in-play and for futures or outright bets. You can find extremely competitive odds in almost every country in the world for the four major tennis tournaments each year.
Depending on where you are situated in the world will have a great bearing on what bookmaker or sportsbook you should use to bet on tennis.
You need to take a number of things into consideration before choosing a bookie. Do they accept people from your country? If you are from the USA you are much more restricted in betting options, than say, if you were from Australia – where online gambling is regulated and a booming industry.
Other European countries like France have strict online gambling laws, so you need to be aware of restrictions that may be placed on you.
Often the website won't be blocked to people of your residence, with it more like they simply won't have the appropriate deposit options for people in your country. Always be aware you need to be able to cashout if you are depositing at a bookie.

Grand Slam Tennis Betting
---
Tips for Betting on Tennis
Like every bet you make, be informed! A little knowledge can go a long way. Know what the surface is for the tournament you are thinking of betting on. Obviously Rafael Nadal is close to unbeatable on clay but can be up and down on surfaces like grass. It pays to look at lead-up form.
Who is playing? Some players simply struggle against some players. One prime example is Maria Sharapova's struggles against Serena Williams. So manipulate your bets accordingly.
What is your bet's history playing on that surface? What is your bet's history against their opponent? What is your bet's current form? These are all questions you need to ask yourself before punting on tennis.
Then you have to look at the odds. Do you actually see any value in the odds? It always pays to do a quick scan of several different bookmakers to make sure you are getting the best possible odds. That extra 40 cents you find on a Federer victory might be the difference between a winning day and a losing day.