Estimated Reading Time: 4 minutes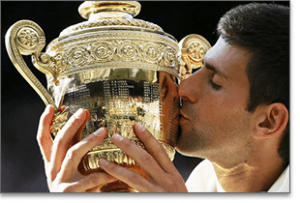 THE battle for grand slam glory at Wimbledon has been fought and won for another year, with world number ones Novak Djokovic and Serena Williams claiming the spoils of victory at The All England Club on the weekend.
And while we have to wait another year to do it all again, our friends at Sportsbet.com.au have already jumped on the 2016 markets, installing Djokovic as the $2.25 favourite in the men's draw and Williams as the $2.88 fancy among the women.
While he may have been smacked in straight sets in the semi finals by runner up Roger Federer ($8), Brit Andy Murray is the second favourite at $4, with Switzerland's second best tennis player Stanislas Wawrinka behind that pair at $15.
Fading Spanish star Rafael Nadal is the only other player under $26, rated a $17 chance, despite the world number 10 crashing in the second round to German qualifier, world number 102 Dustin Brown.
Of the Australian hopefuls, the controversial Nick Kyrgios, who had a tournament to remember for all the wrong reasons, is our best hope at $46.
Fellow Aussie ingrate Bernard Tomic is next best at $91, while less controversial men Thanasi Kokkinakis and Sam Groth are both sitting at a whopping $226.
In the women's draw, while Williams is the huge fancy, Petra Kvitova is her nearest challenger at $8, despite being bundled out in the third round of the championships this year.
Russian model Maria Sharapova is next best at $9 after losing to Williams in the semi finals, sharing that line of betting with Victoria Azarenka.
Beaten finalist Garbine Muguruza is $15, but the only two Aussies you can get odds on in the women's market are Sam Stosur ($151) and Casey Dellacqua ($226). They're a long way off, according to the bookie.
Djokovic swept to his third Wimbledon title, defeating Federer for the second time in as many years, this time taking four sets, 7-6 (1), 6-7 (10), 6-4, 6-3 in two hours and 56 minutes.
Pushed hard in the first set by the Swiss champ and then overcome in the second, the Serb reached another level to close out the match swiftly.
"I was aware Roger was going to play like he always plays, at his best when it matters the most," Djokovic said after the match.
"He pushes you to your limits, and asks you to work hard on every point.
"He won't hand you the match.
"That added a bit more pressure but these parts of matches you work all your life for.
"You envision yourself being on Centre Court in this tournament and holding this trophy.
"It's a thrilling feeling."
Djokovic's win equalled his coach, Boris Becker's record of three titles at the All England Club, which is also shared by the great John McEnroe.
No one is betting against him securing a fourth and, at 28, there's little wonder why he's favoured to make it three in a row in 2016.
"I'm 28. I feel good. I don't feel old," he said.
"Hopefully I have many more years in front of me.
"I'm going to try to push my own limits and see how I can really go.
The pair of champions has met 40 times, splitting their contests down the middle with 20 each, and Federer played tribute to the man who has taken his mantle as the best tennis player in the world, and who will probably be the best, when all is said and done.
"Novak played not only great today but for the whole two weeks, plus the year, plus last year, plus the year before that," Federer said.
"He deserves it.
"He was tougher on the big points, and at the end he was rock solid.
"He played great and I didn't play bad myself so I can be happy.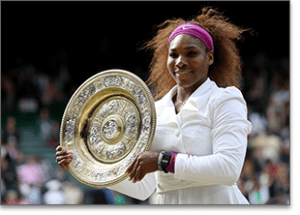 In the women's final, Williams completed her second so-called 'Serena Slam', winning her sixth Wimbledon title, giving her all four major titles – The French, US and Australian – in succession.
It's the first time she's won the title in three years, but it gives her six of them to add to the trophy cabinet.
She powered through the Muguruza, 12 years her junior, in straight sets, 6-4, 6-4, and has really showed no signs of slowing down.
"I totally surprise myself, I'd have never thought I would have won another Serena Slam, never," Williams said.
"I didn't think about winning a Serena Slam, so that's super surprising.
"Even at 33, I did it 12 years ago, so that's really cool.
"Back then I was on top of the world and kind of expected to win.
"I guess I'm expected to win now but personally I'm having more fun just really enjoying each moment so it's a little bit different.
"A year ago I was just not doing great.
"I couldn't figure out what was going wrong.
"I was like, 'Listen I'm just going to relax, then do the best that I can and see what happens,' and that's kinda what I did and it worked for me."
If she can win at the US Open later this year, Williams will draw level with legend Steffi Graf on 22 major titles, tying the open era record.
Men's Wimbledon 2016 markets
N Djokovic ($2.25 with Sportsbet.com.au)
A Murray ($ 4)
R Federer ($8)
S Wawrinka ($15)
R Nadal ($17)
J-W Tsonga ($26)
M Raonic ($31)
G Dimitrov ($31)
K Nishikori ($34)
M Cilic ($34)
T Berdych ($46)
N Kyrgios ($46)
R Gasquet ($81)
J Isner ($81)
B Tomic ($91)
G Monfils ($101)
G Simon ($126)
Women's Wimbledon 2016 markets
S Williams ($2.88 with Sportsbet.com.au)
P Kvitova ($8)
M Sharapova ($9)
V Azarenka ($9)
G Muguruza ($15)
S Halep ($17)
M Keys ($23)
C Wozniacki ($23)
E Bouchard ($23)
A Radwanska ($26)
S Lisicki ($34)
L Safarova ($41)
L Robson ($41)
A Kerber ($41)
C Vandeweghe ($51)
S Stephens ($51)
B Bencic ($51)
A Ivanovic ($51)
Ka Pliskova ($67)
E Svitolina ($67)
V Williams ($81)
C Giorgi ($91)
T Bacsinszky ($101)
E Makarova ($126)
J Jankovic ($126)
* Odds provided by Sportsbet.com.au