Estimated Reading Time: 3 minutes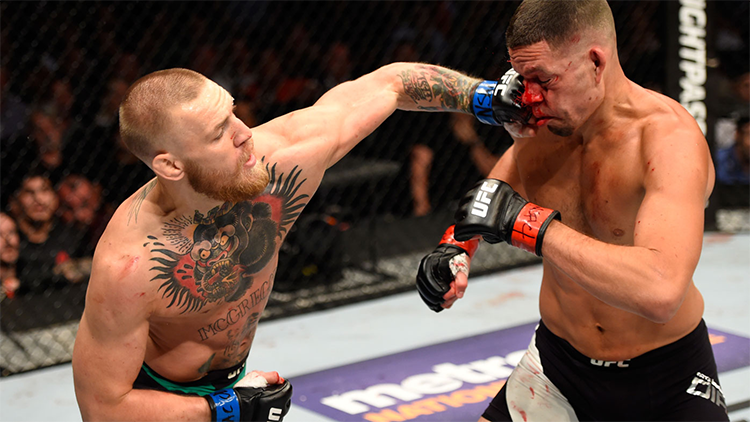 AFTER a controversial points decision victory on Sunday, Australian bookmaker Sportsbet has installed Irishman Conor McGregor as the $1.44 favourite for a possible third fight with Nate Diaz.
The two fighters put on a great show at UFC 202 with McGregor ultimately winning by unanimous decision after five rounds. Unlike the first fight between McGregor and Diaz, McGregor was able to stick to his game plan and not get hit by the heavy hands of Diaz.
McGregor took to using leg kicks, which isn't his usual tactic, but something that clearly threw Diaz off his game.
"I don't really throw leg kicks," McGregor said.
"In my whole career I've thrown about three.
"This time, you have to hit the legs on them. He got pretty good at checking them. I just kept kicking. It set up some of the shots I hit."

McGregor is now able to fighting any opponent in the coming months, but UFC President Dana White isn't jumping the gun to make this a trilogy, despite the fight grabbing worldwide attention from fans and punters alike.
White states that McGregor will either fight for his featherweight title or hand it over – seeing as McGregor hasn't defended the title since winning it from Jose Aldo in December last year.
"We're not doing this a third time right now," White said.
"Conor's either going to defend his title or give his title up."
But Nate Diaz ($2.62 at Sportsbet) isn't so coy about Dana White's views on a possible rematch. Diaz, not known for holding back, has come out saying he doesn't want to fight again until he gets another chance with McGregor.
"I'm not doing shit until we go for round three," Diaz said.
"You won't be seeing me until then. If they (the UFC) want to set it up as soon as possible, let's do it."
Sportsbet is also offering a market between McGregor and Jose Aldo with McGregor the current $1.67 favourite, but McGregor isn't keen on the match-up.
"How long was I going back and forth with Jose?," McGregor said at his post-fight conference on Sunday.
"He pulled out last minute, I continued to fight someone else, then we rescheduled, a two-year around the world deal with that boy and then he stepped in and I beat him in 13 seconds. It's hard for me to get excited about that.
"Look, we'll see. I'm the 145lbs champion; the interim 145lbs champion is a man I KO'ed in 13 seconds.
"I've got to figure out what's next, but right now I don't know. There's many things in the pipeline, so sit tight."
It appears to us that McGregor will have to fight Aldo, otherwise he will relinquish his title. McGregor should defeat Aldo again in this weight class so take the $1.67 available.
UFC Fight Night Vancouver best bets
There's plenty of action in the UFC that doesn't involved Conor McGregor and Fight Night Vancouver has a great headlining fight.
Carlos Condit returns to the octagon after suffering a potentially career-ending loss to Robbie Lawler in January. He's back to fight Demian Maia who has rattled off five consecutive victories and he's after a title shot, but will have to go through Condit to get there.
Maia is more of a grappler which is typical of a Brazilian fighter, but Condit will come out swinging and that makes for an interesting fight.

Bookmakers are finding it hard to split the two, but are siding with Carlos Condit at $1.83. Maia is $1.97 which looks like a great price and one we strongly suggest taking. Maia will frustrate Condit who could be one loss away from hanging up the gloves.
Also on the card is Pettis vs. Oliveira. Anthony "showtime" Pettis has gone 0-3 in the last 20 months and he has had to change weight grade to counter his poor form.
Pettis is fighting Charles Oliveira who has won five of his last six fights and is making his way up the featherweight ranks. Oliveira is a submission artist who will need to stop the attacking prowess of Pettis, but again this is a fight of different styles which could end up on the ground for the entire fight.
The $2.51 for Oliveira is a good price, but the safer option is to take Over 1.5 rounds ($1.50 at CrownBet) as the fight should go the distance.
There are nine other fights on the card which punters can bet on, so sign up to either CrownBet or Sportsbet and get involved in betting the highly lucrative UFC now.