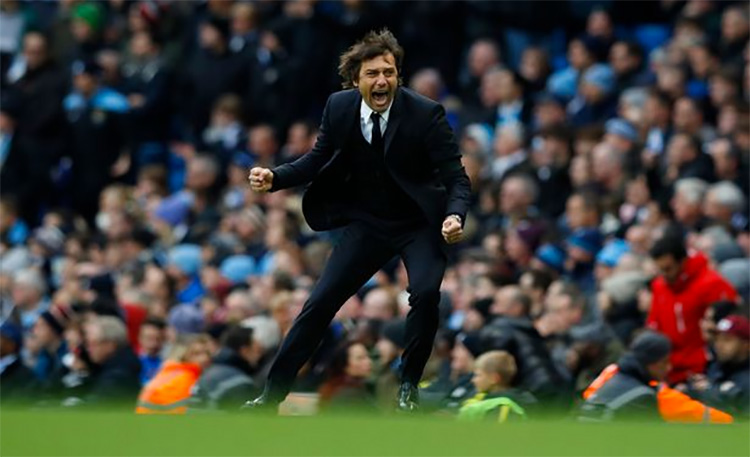 SEVEN teams are still mathematical possibilities of winning the English Premier League title.
But, in reality, there is only one.
Chelsea is the -588.24 favourite to complete a remarkable turn around and win the title, a year after missing out on a Champions League appearance.
It already feels like manager Antonio Conte is counting his chickens, as he has spoken about exactly what he will do if (when) his charges win the title.
"First of all, I hope to win the title because it means we did a great job with the players, with the club, with the staff. We hope to do that," Conte said.
"Then, for sure, after a season like this, yes the players, myself, we all need, above all, a good rest, to spend time with our families, and try and go on holiday.
"I don't know where, but for sure we need to have a bit of rest."
The Pensioners are in action tomorrow morning against West Ham and, should they win, would go 10 points clear of Manchester City.
But that could be short-lived, with the Sky Blues in action again Wednesday against battlers Stoke.
City has been the big mover and shaker of late, claiming their fourth win on the trot earlier today, knocking over Sunderland 2-0.
Goals to superstar Sergio Aguero and Leroy Sane ensured the clinical victory over a team propping up the Premier League and favourite for relegation.
They might be going nicely, but manager Pep Guardiola says Chelsea is just about unstoppable.
"It's a pity that the distance between Chelsea is so big," Guardiola said.
"But that's true. We are there behind, of course, Chelsea because they are almost unstoppable.
"I feel we are playing quite well and that's why we are getting results.
"But now, of course, we are in a position when you arrive in March and April, every game if you win, you stay; if you lose, you are out.
"In the Premier League, in the cup, in the Champions League.
"The players know, we know, the club knows, if we are not able to win the next game we will be out."
Tottenham Hotspur is actually one point ahead of City, but, owing to the fact City has a game in hand, they are way out at $17 as the third favourite in the betting market.
The bookies – and punters – are well aware of the London club's historical fragilities and they – like most – don't trust Spurs to go on with it.
That is despite a 3-2 win over a very competitive Everton side yesterday. The Toffees are still a mathematical possibility to win the title – last in the market at $251 – but the loss almost rules them out.
It doesn't really matter, anyway, because manager Ronald Koeman says no one can catch Chelsea.
"It's a difficult system to play against – Chelsea are playing out of the same system," Koeman said.
"It will be very difficult with the distance in points. I think Chelsea are too strong for the rest."
Harry Kane, who is the even money favourite to win the Premier League's Golden Boot for most goals, was at his blistering best, firing in a brace, backed up by a late goals from Delle Alli that ensure Spurs would claim the three points, even though Romelu Lukaku and Antonio Valencia did their best to rain on their parade.
It was an entertaining battle between the Premier League's top two goal scorers, with Lukaku causing Spurs plenty of problems in attack.
He is the second pick for the Golden Boot at +350, with 18 goals – one behind Kane – while Chelsea's expert finisher Diego Costa is two further back on 16.
Despite the fact he has one goal less than Arsenal superstar Alexis Sanchez, he is more favoured at $5.50, compared to the Gunner's quote of $9.
Sanchez is a superb finisher and among the best players in the Premier League, but he is not the out and out striker like Costa is and can spend time in more midfield spaces.
Manchester United cult figure Zlatan Ibrahimovic is next on the list of goal scorers with 15, but this is where the chase gets interesting.
He has a man ahead of him in the market that is actually a long way off the pace.
Aguero has just 12 goals this campaign, yet his pedigree clearly precedes him because, even though he is some seven goals off the pace, he is still very short at $10 to win the boot.
Ibrahimovic has three more goals, yet is only rated a $13 hope to claim the boot.
Even with Aguero considerable talents and history of winning the boot, those odds seem a little askew to us.
Manchester United, Liverpool and Arsenal are all still mathematical possibilities to claim the title, but all signs point to Chelsea and its basically a case of them completely wetting the bed for any other team to be even a hope in hell of catching them.
Good luck, boys.
English Premier League 2017 title market
Man City ($9)
Tottenham ($17)
Man Utd ($81)
Liverpool ($91)
Arsenal ($101)
Everton ($251)
Odds provided by Sportsbet.com.au
English Premier League Golden Boot winner 2017 market
H Kane ($2)
R Lukaku ($4.50)
Diego Costa ($5.50)
A Sanchez ($9)
S Aguero ($10)
Z Ibrahimovic ($13)
S Mane ($34)
Dele Alli ($41)
J Defoe ($41)
E Hazard ($51)
T Deeney ($81)
A Carroll ($81)
F Llorente ($91)
R Sterling ($91)
R Firmino ($101)
C Austin ($101)
Kevin De Bruyne ($101)
T Walcott ($101)
A Martial ($151)
P Coutinho ($151)
C Benteke ($151)
Pedro ($151)
Heung-Min Son ($151)
L Sane ($176)
A Hernandez ($201)
O Giroud ($201)
Odds provided by Sportsbet.com.au