Estimated Reading Time: 5 minutes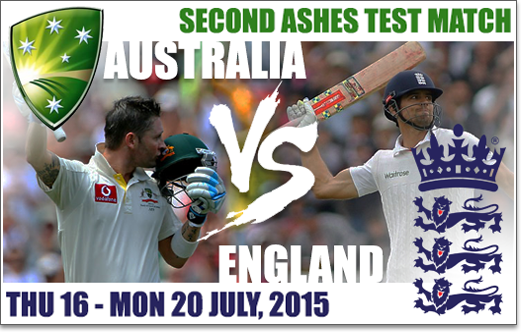 Second Test: Thursday, July 16, 2015, 8pm AEST, Lord's, London
First Test: England defeated Australia by 169 runs
Third Test: Wednesday, July 29, 2015, 8pm AEST, Edgbaston, Birmingham
Fourth Test: Thursday, August 6, 2015, 8pm AEST, Trent Bridge, Nottingham
Fifth Test: Thursday, August 20, 2015, 8pm, AEST, Kennington Oval, London
Bet with: www.CrownBet.com.au – Use up to $650 in bonus bets!
PUNTERS who backed the Australians to win the Ashes in a 5-0 whitewash deserve an apology.
From all of the Aussies, but especially Brad Haddin.
All too often throughout his career, Haddin has taken the odd blinder, while dropping flat out sodas.
And so it was again, the Poms teetering at 3/40 in the first Test at Cardiff, with talented youngster Joe Root striding to the crease.
Aussie seamer Mitchell Starc clipped the 24-year-old's edge, flying through to Haddin, who for some reason dived and went one handed, when he could have shuffled the feet and taken it regulation.
The ball went down as he hit the ground and then Root went on to club 134, leading the English to 430 and effectively batting the Aussies out of the game.
And now the Poms are favourite to win The Ashes, $2 with WilliamHill.com.au with Australia at $2.70 and a drawn series at $5.
Haddin wasn't the only one to blame, too often the Aussie bats got ahead of themselves with extravagant shots that simply weren't needed.
Although the keeper – who hasn't been able to buy a run – did very little with the bat again with 22 and seven, his mate, under fire all rounder Shane Watson, made sure he took the brunt of the criticism by falling cheaply in both innings, both times LBW in what has become an all too familiar picture of him falling across his stumps.
The Australians reached 308, 122 runs behind in their first innings, thanks largely to Chris Rogers, whose expertise in English conditions saw him reach 95.
England replied with 289 and the Australians then surrendered meekly for 242, relying on seamer Mitchell Johnson's 77 to recover from 6/122.
It was a poor performance that has many questioning whether the Australian's, can recover for the second Test – and the series – compounded by an injury cloud over the side's best bowler, Starc.
The big left armer snared 5/114 in the first dig and 2/60 in the second, but is facing an uphill battle to be fit for Thursday evening's stoush after suffering bone spurs in his ankle.
Coach Darren Lehmann says he is confident the young gun will play, but he still has to prove his fitness.
"He's walking around ok," Lehmann said.
"We want to take a fully fit side in so he's going to have to prove his fitness, we certainly don't want him breaking down on day one.
"But all signs are pretty good."
The Aussies are still $2.35 favourites to win the second Test, with the English at $2.80 and a draw at $3.50.
The other big selection question surrounds the hapless Watson, whose career surely hangs in the balance.
If he is dumped for the in form Mitch Marsh, who is coming off back to back tons in tour matches, he is surely done for at age 34?
The public has been baying for Watson's blood, with little reason for the selectors to persist with him – although one media outlet even satirically suggested he had something over the selectors, hence his apparently permanent spot in the side.
Our boys at sportsbet.com.au have jumped on the Watson bashing, opening a market on whether he will fall LBW in the first innings, giving him a hat trick of leg befores.
"Watto's dreaded pads might be the undoing of him once again with $4 on offer for the much maligned all-rounder to fall LBW in the first innings," the bookie's Christian Jantzen said.
"If he gets a start, he's priced at $1.87 to score under or over 22.5 runs in his first dig at Lords, and the same price to make over or under 50.5 runs for the match.
"Poor Watto's on a hat trick, but it's a hat trick of LBWs."
The English, meanwhile, are cruising.
While their opening partnership didn't exactly fire in the first Test, the batting looked well balanced, with Root the star, while the bowlers got the Dukes ball to sing, rifling through the Aussie line up with regular wickets, breaking partnerships when it was needed.
We can't really see them making a change.
Predictions
Match result: England wins ($2.80 with WilliamHill.com.au)
Highest opening partnership: Australia ($1.72 with WilliamHill.com.au)
How blooy unpatriotic. But bugger it, we're on the Poms' bandwagon. We thought the Aussies would be battling this one out with a commanding win in the first Test, but the opposite is true. Can they fight back? For some reason, we have a lot of doubt. They just seem vulnerable. A lot rests on the two openers, yin and yang Warner and Rogers. Both had decent matches, but they really need to set a platform. Captain Michael Clarke appears out of sorts – is he under pressure? If he fails again, it will mount. Smith got starts in both digs – got through the hard bit – then threw his wicket away. He must make runs for the Aussies to be a chance. And what of Mitchell Johnson? He bowled some serious junk, going for 111 without a wicket in the first dig and the second innings wasn't exactly economical. He must come back to his fiery best, especially with the cloud over Starc. The English just seem more settled and more used to the conditions on their home decks. Time will tell.
Top run scorer tips
England
Joe Root ($3.75 with WilliamHill.com.au)
Hard to go past the Ellen DeGeneres look alike in this market. Dropped on nought, he made a majestic 134 in the first dig, before backing that up with a half century in the second. Has all the shots in the book, although he can be very scratchy early. Bats in the ideal spot at five, with plenty of talent that will se him go up the order.
Australia
Steve Smith ($3.75 with WilliamHill.com.au)
We agonised over this, but we're gonna keep the faith with Smith here. He chucked it away in both digs in the first Test after getting into the 30s and looking largely untroubled. Has been making massive scores and we reckon another one is very close. Has too much talent not to convert his starts into tons.
Top wicket taker tips
England
Mark Wood ($4.50 with WilliamHill.com.au)
It's only his fourth Test match and it's not like he's considered a strike bowler for the English yet, but we reckon the 25 year old looks the goods. Not lightning quick, but took two wickets in each innings and we reckon if he gets the chance he can cause some damage.
Australia
Mitchell Johnson ($3.50 with WilliamHill.com.au)
Yep, we just baked him and now we're backing him to bounce back. Starc was the man in the first Test, but Johnson is too proud not to come out breathing fire. He'll want to make up for that poor showing and we feel sorry for the English bats. Give him the new ball, Pup. Oh and Haddin, make sure you take your catches.