Estimated Reading Time: 3 minutes

WITH the rest of the world focusing on the rampant crime and drug use in Rio de Janeiro, as well as some sort of sporting event going on there too, I thought this would be a #Rio2016-free space this week.
The Olympics will not be mentioned. If we're to talk about drug cheats this week we'll have to talk about drug cheats from different sports from around the world, not just China and Russia.
But there's more than just rampant drug use in the world of sport this week: an old legend is returning to Australia
Cahill's A-League club announced
Tim Cahill has announced he will be playing with Melbourne City FC and has even taken his first training run with the squad this week.
Hopefully Cahill's return will be a little more effective than Harry Kewell's over-hyped return to the Melbourne Victory in 2011, which has since been compared to a fart in a whirlwind.
Cahill's return to play club footy in Australia for the first time in 19 years has soccer fans from all around the country frothing at the bitt.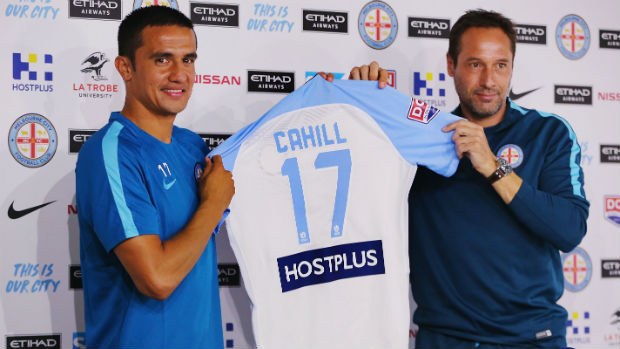 WilliamHill.com.au has a tight outlook in A-League betting futures with Perth Glory the favourite on $5.50 and Melbourne City tied with Adelaide United on $6.
The news of Cahill's return has corner posts at soccer fields all around the country shuddering in fear of being beaten up each time Cahill scores a goal and executes his famous goal celebration.
Tim Kennedy overreacts to USADA testing
UFC fighter and current serving member of the United States armed forces, Tim Kennedy, clearly doesn't take too kindly to the idea of USADA random drug tests.
A USADA sample collector made an appearance at Kennedy's home, only for Kennedy to pull a gun on him and demand to know who he was and what he was doing there.

The UFC and USADA have brushed Kennedy's bizarre behaviour aside, saying most rational, sober athletes react violently to unannounced strangers at their door. It would also explain why Jehovah's Witnesses haven't been seen in Kennedy's neighbourhood for the last 14 months.
The USADA sample collector was only there to collect a urine test. He shudders to think what may have happened if he were there to collect a blood sample.
UFC202 is coming this weekend, checkout CrownBet.com.au for their odds on all of the match up's.
A-Rod retires
Alex Rodriguez, the polarising New York Yankee designated hitter whose career has seen more juice than a Boost Juice Bar, has announced his retirement after 22 seasons of MLB.
Rodriguez confirmed he had been offered a front office job with the Yankees. However, there was a rumour floating around that he turned down extremely lucrative offers as a sales rep for several pharmaceutical companies as well as player performance management roles for the Cronulla Sharks and Essendon Bombers. Thankfully, Yankees General Manager, Brian Cashman, persuaded A-Rod to stick with the Yankees and take their front office role.

The 41-year-old conceded you can only get roided up and smash the stitches off baseballs for so long. There was also an off-colour remark made about the only balls A-Rod will be seeing from here on in are baseballs. Some collected media chuckled, others furrowed their brow in disgust.
PalmerBet.com.au has the Yankees at $81 to take out the World Series in 2016.
Wimbledon poisoning??
Rising British tennis star, Gabriella Taylor, was playing in the junior tournament at Wimbledon before falling ill with leptospirosis, a bacterial infection commonly found in rat urine.
Apparently the strain that cause Taylor's illness was so rare it caused her parents to cry foul and make allegations of poisoning. The police are now investigating the potential poisoning with intent to endanger life.
If this is true it would be the most shocking and bizarre poisoning in London since Alexander Litvinenko.
Litvinenko was an outspoken critic of Russia who was poisoned with radionuclide polonium 210 at a sushi restaurant by ex KGB agents in 2006.
Are we now to believe that secret agents are resorting to poisoning young girls in their sleep with rat urine? Don't we all swallow at least eight spiders a year while we're asleep? Is it really out of the realm of possibility that Taylor could have gargled some rat whizz while asleep?
Or is this to be a new sort of Tonya Harding incident? Was Taylor rubbed out by an assassin hired by a competitor?
Perhaps we will never know the truth of this story. Is it the beginning of a conspiracy or an hilarious story of slap stick proportions?
Bet365.com has the women's US Open top three favourites as:
Serena Williams $2.25
Garbine Muguruza $8
Angelique Kerber $11